Sorry. You need to upgrade your browser
You are using Internet Explorer 8
This is considered an out of date browser. This website has been developed with modern browsers in mind to allow it to display at its best in a wide variety of viewing situations - including mobile viewing. But we haven't supported older browsers like IE8. Please upgrade to the latest version of Internet Explorer - or try Mozilla Firefox or Google Chrome. Both are excellent browsers.
Thank you.
Call now for sales or support:
01283 533 377
Timer Drains
HTD Timed Solenoid Drains
This high quality product is the most reliable way to remove water/oil condensate from a compressed air system. Designed for use on filter housings, after coolers, dryers, pressure vessels, air receivers and compressors, regardless of size or capacity, the adjustable interval and discharge times allows you to make this unit work at its optimum and become energy efficient. The key to this extremely reliable auto drain is the high quality brass valve arrangement which is precision machined to fine tolerances. The valve orifice bore is 4mm which allows the largest piece of dirt, metal and scale to be removed along with the condensate.

Solid State Controller
The IP65 timer controller is multi voltage allowing it to be used across the full range of Hi-line drains. 100% rated coils give long service life and the ability to work in elevated temperatures. LED indicators display the operation of the drain and a manual test button is also employed.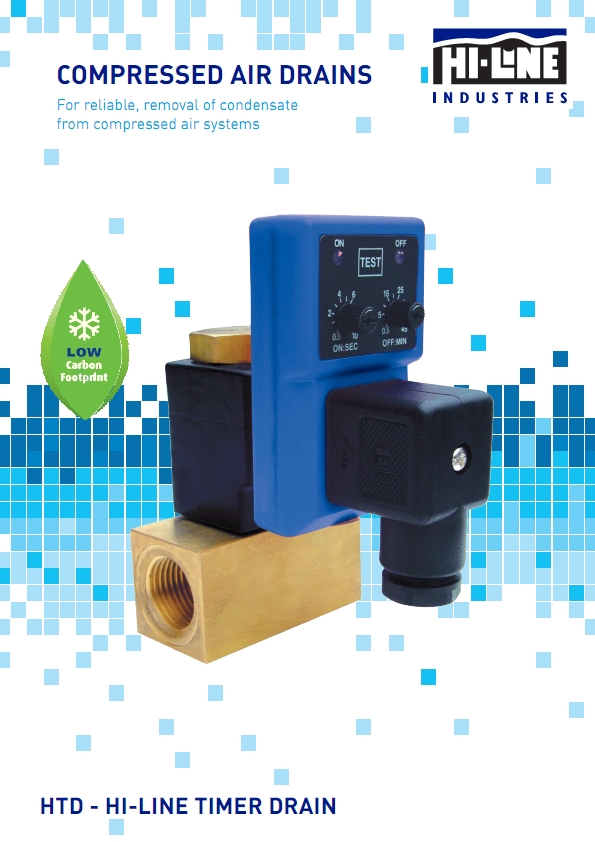 Click here to download the product brochure
Click a row in the table for more product detail:
| Model | Connections |
| --- | --- |
| HTD1 | 3/8" bsp |
| HTD2 | 3/8" bsp |
| HTD3 | 1/2" bsp |
| HTD4 | 1/2" bsp |
| HTD5 | 3/8" bsp |
| HTD6 | 1/2" bsp |
| HTD9 | 3/8" bsp |
| HTD10 | 1/4" bsp 40bar |
| HTD20 | 3/8" bsp |
| HTD21 | 1/2" bsp |
| HIL12B | 1/2" Brass Strainer |
| HIL38B | 3/8" Brass Strainer |